School Newsletter
The school's newsletter is an electronic publication that is released every two weeks. The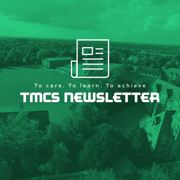 newsletter has a combination of school news, pupil achievements, achievement points, and attendance stats, competitions, challenges, prayers, and readings from our Lay Chaplin.
The newsletter is created by Mr. E Clarke with contributions from all staff members and pupils.
As a pupil, if you are interested in writing a piece for the newsletter. Please come and see Mr. E Clarke and sign up to be a Press Gang member.
View / Download Newsletter Issue