International School Status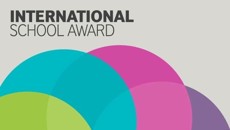 We are proud that the British Council has awarded us the prestigious International School Award for the last decade.
In order to achieve this award, we show that we provide activities involving other schools, curriculum activities and language learning opportunities.

We can offer your son or daughter the chance to be a part of a Soft Skills project with schools in Germany, Italy, Denmark, Finland and Spain. We have funding for travel costs. It involves hosting a pupil in your home. Contact us for more details!
We also offer the chance to be a part of our Comenius project called Art Attack about Street Art.
We work with schools in Austria, France and Portugal for this opportunity.
Trips to France
Each school year we run 4 French trips to:
Boulogne, France Summer 2020
Lille, France December 2019
A 3 day trip to Nice - June 2020
A 3 day trip to Paris - May 2020
International Curriculum
Pupils at Thomas More enjoy a plethora of curriculum opportunities where the international dimension is the focus.
Year-round International Immersive experiences
Each year, pupils enjoy a week of International Experiences as well as a multicultural celebration of cultures represented at Thomas More. This year this includes Indian dancing, Flamenco dancing and Sushi making.
Visit by Lorentz Lyceum from Croydon's twin town, Arnhem in Holland
Each year around 50 Dutch pupils spend the day with us after preparing a project about our similarities and differences. During the day we tour the school with our guests, work together on a shared project. The choice includes DT, Art or PE. Afterwards, pupils enjoy their lunch together and there is usually an impromptu, international football match at breaktime.
Impact on pupils
We are passionate at Thomas More about being able to provide opportunities for pupils to increase understanding of other countries and their cultures. We know that the impact on pupils has been in the past and it is huge. Not only do pupils at Thomas More have the opportunity to practise their language skills abroad with a preparation course beforehand but also to experience the culture they are studying. Our pupils are able to meet and work with pupils on ongoing projects with our Dutch school which prepares them for working with different people in their future working lives. They also have many opportunities to go to other European countries and practise language skills. We believe this develops confidence in our pupils to navigate in different places both physically and emotionally. Our pupils learn independence, to value others and their different contributions. They also learn solid skills such as entrepreneurial skills, Art techniques, using IT to communicate ideas, using social media to stay in contact and make friends. Also through our curriculum, pupils learn how to appreciate the standard of living they enjoy compared with most people around the world living in comparative poverty. They can understand that they can influence outcomes for other people through charity work and that we are all part of a global community where language and being able to deal with people from different backgrounds is paramount to successful working with others.
Impact on staff
I believe the impact our international programme has on teachers has an enormous effect. We can't ignore the huge amount of work that goes into organising around 10 trips in a year and dedication to pupils having opportunities regardless of their income level. As well as hard work, teachers, of course, get to enjoy greatly the professional challenges of working together on our Erasmus+ projects, our international yearly immersion activities, our Dutch Day and our international work in classrooms. Teachers are able to make friends with colleagues from all around Europe. There has been much camaraderie, laughter as well as hard work and diplomacy in keeping Comenius projects and Erasmus+ projects with the same schools going for a decade. They have been able to share practices with each other for the benefit of the pupils. Particularly in subjects like Geography, History, Business Studies and English, through International work, teachers have reported higher pupil engagement in lessons and therefore more enjoyment in teaching for them. I think also teachers are proud to be a part of a school that is outward-looking and able to prepare pupils for an ever-changing world, where ability and experience in dealing with people from different cultures gives one the edge. I suppose as well that one of the most interesting things about international work is the sheer variety of opportunities for teachers to try something different with different people and valuing staff well-being.