PC N. Bishop
Posted on: 04/05/2021
How long have you been a police officer?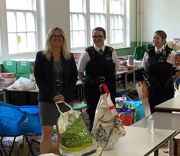 I was a Special Police Constable for 3 years and then I joined as a Police Constable in 2013. I have done several roles during my career as a police officer, some of these include, a part of the Tasking Team, and the Neighbourhood Team. I have spent the last 4 Years with the Safer Schools Team.
What's the difference between a schools' police officer and a normal police officer?
The main difference is the role. Schools' officers are Police officers who can get called to do other duties. We are a part of a team of Safer Schools' officers who cover the schools in Croydon. Each officer is assigned 2 or 3 schools. The aim is for the SSO for each school to carry out prevention work, educational talks and build a rapport with the students. The main role of a response officer is to answer the immediate calls that come in from members of the public, these range from missing persons enquiries and welfare checks to more serious crimes.
What crimes do you investigate?
We investigate any crimes involving young people that are committed in the schools, or offences that occur outside the school if we believe we can assist with the investigation. The typical report we investigate are possession or cannabis or weapons, assaults (sexual or physical) between students, and the possession and distribution of indecent images.
Do you arrest children?
The age of criminal responsibility is 10 years old, therefore anyone who commits an offence over this age could be arrested. As a schools' officer I can therefore arrest any student for an offence they have committed, however this is very rare. We try to interview suspects of an alleged offence by way of a Caution Plus Three interview. This means that the suspect will be invited to the police station with an appropriate adult at an arranged time and date. They will be interviewed for the offence and then are be free to leave. This means that the suspect will not need to be arrested or sat in a cell for an extended period of time. However if the person is invited in for a Caution Plus Three but refuses to attend or misses the appointment then it may be necessary to arrest them to get their account on tape. I have personally only once arrested a child at a school in 4 years of being in the role.
What do you do when you come into school?
We work closely with the safeguarding lead/team at the school, and share information that we believe will help to safeguard the students. We aim to build a rapport with the students so they are comfortable reporting things to us as a victim or can confide in us if they are getting involved in criminality but want a way out.
On a daily basis while at the school we like to engage with the students in their break/lunch time to help build the relationships between police and young people. If we are made aware of a crime that occurs we look for the best possible outcome for all parties and make sure it is dealt with in a timely manner. This may be by giving words of advice to all parties involved, interviewing suspects or completing restorative justice meetings.
Our main aim is to stop young people getting criminalised, so we deliver assemblies and talks to educate students around the law and how to best keep themselves safe. We are also always available to offer advice or any questions anyone has.
Why did you choose to be a schools' officer?
I think everyone on my team would say that we chose to become a schools' officer as we want to work with young people and make a difference to their lives. It is a role where we can be a constant professional in a young person's life and try to divert them from a life of crime. It is a rewarding job, as you get to see the good students flourish and help the ones that are struggling to choose the correct path in life and go on to succeed.
What happens in the police station if a student gives a statement or gets arrested?
If a young person is a victim or a witness the officer will arrange a time and a date to take a statement. This will normally be in an environment where they feel comfortable. The statement will normally be verbally spoken by the victim or witness and hand written by the officer. The officer will ask questions to ensure that all the information that is required is captured. On some occasions a video statement will be taken, this is for young people or people with additional needs who struggle to verbalise what has happened, or for certain offences such as rape. The video statement has to take place at a police station in a specially equipped room.
If we need to interview a suspect this can be done in a voluntary interview or when they are arrested. In both cases any interviews with young people will have an appropriate adult present, this is to ensure their rights and entitlements are upheld and they can help facilitate any communication. Any person is also entitled to free and independent legal advice, there can be a solicitor present in the interview or spoken to by phone. At the start of all interviews the person will be cautioned and then their rights are explained. During the interview the person will be asked for the account of the incident and then be asked further questions to gather all the information required to complete the investigation. After the interview all information is put into a case-file and submitted to a decision maker, they will review all the evidence and decide on the most appropriate outcome.
Do you only work when schools are open?
Our shift pattern matches the school day, we work 8-5 the majority of the term time. We get some of the school holidays off, but unfortunately not all of them.
Do you enjoy your job?
Yes! It is the best role I have has so far in my career and I am happy in the role I am in.