Virtual Sports Day 2020
Thomas More Virtual Sports Day - Monday 6th July
Whilst it is disappointing that we cannot have Sports Day at Croydon Arena this year, the PE department are e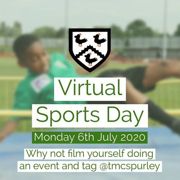 xcited to host a virtual sports day event this year. Students should participate in at least one event of their choice but are encouraged to participate in as many as possible.
The events are:
SPRINT – 10 x 5m shuttle runs
DISTANCE – 5-minute run on the spot
JUMP – Standing long jump
THROW – Target throw
HURDLES – Speed bounce
More information about each event will be sent to you via email and on SIMS InTouch.
To submit your results please use the link below. You will need to fill out the form for each event you complete. The form will open on Monday morning and close at midnight.
Why not record the event you do and tag us from your social media accounts.
Instagram
Also, you can use the hashtags: #tmcs #tmcspurley #virtualsportsday
For each event you participate in, you will contribute towards the overall score for your house. Additional points will be allocated for 1st, 2nd, and 3rd place in an event that will be split by year group with a separate competition for boys and girls.
The winning house will be announced in the next school newsletter. There will also be medals for exceptional performances that will be presented upon returning to school. Good luck!