Teaching at Thomas More
Thinking about applying to become a part of the Thomas More team?
Check out some testimonials for current teaching staff at Thomas More
Nicola Gayle (Head of Drama)
I have been teaching at Thomas More Catholic School for 8 years. My first impression of Thomas More was that I had arrived at Hogwarts and the architectural beauty of the school astounded me. From the moment I walked in everyone was so welcoming and immediately I felt at home.
My journey has been exciting, varied and challenging. I started as a teaching assistant, in order to gain the relevant classroom experience I needed to fulfil my lifelong dream of becoming a Drama teacher. I was thrilled to continue working with young people, as I had done previously as a youth worker but now within a school environment.
I then moved to the inclusion department and became a Learning Behaviour Mentor, to extend my knowledge and experience. After a year, I was then given the opportunity to manage the inclusion room, where I was able to implement change and coordinate the mentoring and learning for our pupils. This put me in good stead for my current position as Head of Year 9 and Head of Drama.
Teaching at Thomas More is unpredictable, our pupils are so enthusiastic and full of life, I am constantly surprised and impressed by the talent I witness every day in the drama studio and on stage. Being able to teach all of year 7 and 8 enables me to get to know all of the pupils and build relationships, which makes the teaching aspect of school life far more enjoyable.
I have felt so much support from the start of my journey until now, and there is always someone on hand to answer any questions or lend a helping hand. The role that the Senior Leadership Team play around the school is key and my line manager has been a mentor, an inspiration and a friend. Starting my new role was very daunting at first but when you feel reassured and supported, it provides you with the confidence you need to succeed.
Holly Bishop (Teacher of MFL)
I did the majority of my teacher training at Thomas More and I could not have asked for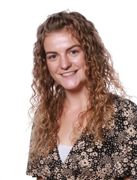 a better, more fulfilling experience. I applied for my first job here, knowing that I did not want to work anywhere else. This is partly down to the brilliant pupils but also the staff, who are so welcoming and friendly. I felt like I fitted in straight away, even as a trainee and have already been embraced as a new member of staff within the languages department.
I have seen pupils respond to learning Spanish with such interest that it has inspired me to consider a trip to Spain in the future; I would be proud to take Thomas More pupils who represent everything I love about languages. Even on difficult days at work, I feel like I am making a difference to children's lives and that is what I thrive on.
Staff and pupils' ability to grow in understanding of each other is what really stood out to me during my first few months at the school. The pastoral care in particular is excellent and I am very excited to see what the coming year brings, especially for our new pupils.